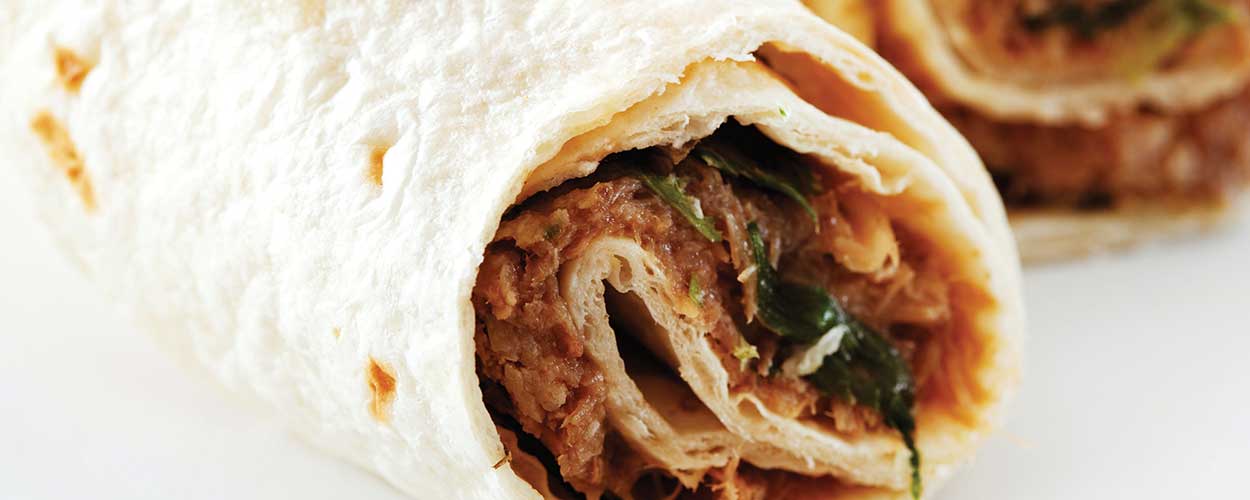 Riverside Farm Duck Wraps
1 tablespoon olive oil
1 cup finely sliced onions
1-2 Riverside Farm Duck Legs, or 2 Riverside Farm Duck Breasts or 1 Riverside Farm Half Duck
¼ cup chopped green onions
12 small flour tortillas or 4-6 wraps
Juice of one lemon
2 avocados, peeled and diced
Juice of one lime
1 teaspoon minced or crushed garlic
2 cups diced tomatoes
2 cups shredded lettuce
Tabasco sauce (optional)
Salt and pepper
Juice of 1 lemon (optional)
1 tablespoon of chopped coriander (optional)
1 cup of sour cream (optional)
In a sauté pan, over medium heat, add the olive oil. When the oil is hot, add the onions and sauté for 1 minute. Add the shredded duck confit and sauté for 3 minutes. Season with salt and pepper. Stir in the green onions and remove from the heat.
Heat a large skillet, place each tortilla or wrap in the skillet for 15 seconds per side to warm through.
(Optional) In a small mixing bowl, whisk the sour cream, lemon juice and coriander together. Season with salt and pepper.
In another small bowl, combine the avocados, lime juice, garlic and 2 tablespoons of diced tomatoes (reserve the rest of the tomatoes for serving). Season the mixture with salt, pepper and Tabasco.
Assemble wraps to individual taste.